TERMS OF USE
General Terms & Conditions
Introduction
When you use this Site, you agree to be bound by these Terms and Conditions. If you do not agree to be bound by these Terms, you may not use this Site. These Terms are a legal agreement between us and can only be modified with our consent. We may change these Terms at our discretion by changing them on the Site. The current version of these Terms will apply whenever you use this Site.
Intellectual Property
The copyright and all other intellectual property rights in this Site (including all trademarks, service marks, trading names, text, graphics, code, files and links) belong to us or our licensors. This Site contains links to websites operated by third parties, we have no control over their individual content. We therefore make no warranties or representations as to the accuracy or completeness of any of the information appearing in relation to any linked websites.
Liability
PoshMag.net is available on an "as is" basis, without warranty of any kind, express or implied. Neither PoshMag.net nor any of its licensors, employees, agents, consultants or contractors, makes any warranty or representation whatsoever regarding PoshMag.net, any information, services or products provided or available through or in connection with PoshMag.net or any results obtained through the use thereof. PoshMag.net hereby disclaims on behalf of itself and all information providers, licensors and/or licensees of any and all warranties including, without limitation, any warranties as to the availability, accuracy or content and/or information, products or services available through PoshMag.net. We will not be liable for any typographical errors, wrong insertions, late publications, and/or other nonperformances, including failures due to software or Internet errors or unavailability, or any other circumstances. We accept no liability for any loss suffered as a result of your use of this Site or reliance on any information provided on it. In no event shall PoshMag.net be liable to any third party for any indirect, special, or consequential damages.
General
We may from time to time change the content of this Site or suspend or discontinue any aspect of this Site, which may include your access to it. These General Terms are the whole agreement between you and us.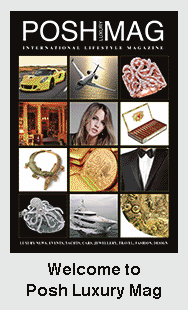 Copyright © PoshMag.Net - All Rights Reserved
Posh Luxury Mag

Terms of Use

Privacy Policy

SiteMap