PRIVACY POLICY
Our commitment to Privacy
Your privacy is important to us. We have developed this Privacy Policy in order for you to understand how we collect, use, communicate, disclose and make use of personal information.
The information we collect
We will collect and use personal information solely with the objective of fulfilling those purposes specified by us and for other compatible purposes, unless we obtain the consent of the individual concerned or as required by law. We will only retain personal information as long as necessary for the fulfillment of those purposes. We will collect personal information by lawful and fair means and, where appropriate, with the knowledge or consent of the individual concerned. We will make readily available to customers information about our policies and practices relating to the management of personal information.
How to access or correct your information
You may update or remove the information you provided to us by contacting us. To protect your privacy and security, we will also take reasonable steps to verify your identity before updating or removing your information. The information you provide us may be archived or stored periodically by us according to backup processes conducted in the ordinary course of business. Information stored as part of this backup process will be deleted in due course on a regular schedule.
How to contact us
To correct, update or delete any personally identifiable information you may contact us with a request to do so at info

poshmag.net. Similarly, users who wish to subscribe or unsubscribe to our marketing and informational communications can do so by using the subscribe/unsubscribe options or sending an email to info

poshmag.net. We may take a reasonable period of time to respond to any request, and/or to update and/or modify any information, and/or to opt out of, and/or unsubscribe from any communications. If you request the deletion or modification of your personal information maintained by us, such information may be retained for a period of time in our backup systems as a precaution against system failures. Some information may be retained for longer periods as required by law, contract or auditing requirements.
If you don't agree to the terms contained in our Privacy Policy, you must immediately exit the service.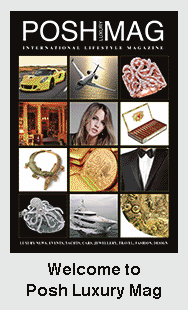 Copyright © PoshMag.Net - All Rights Reserved
Posh Luxury Mag

Terms of Use

Privacy Policy

SiteMap