ABOUT US
About Us, PR Contact, Guest Contributors, Advertise
About Posh Luxury Mag
We are a growing up site dedicated to international luxury lifestyle. Posh Luxury Mag covers every aspect of a luxurious lifestyle: luxury news and luxury products from yachts and luxury cars to exquisite high fashion, providing an exclusive coverage and placing brands in environments where consumers and opinion leaders become passionate fans.
Press Contact
We welcome news releases, previews, and photos for upcoming luxury news. Please send Press Releases to: posh

poshmag.net.
Guest Contributors
Traffic to the Posh Luxury Mag website has more than doubled, as has the number of people wanting to contribute articles. We are delighted that so many of you want to write for us, and we welcome guest contributions. Please note that submissions, if selected for publication, authorize the publication in print and online of articles and photos submitted to us. Contributors won't be paid, but will be given full credit and promotion to our readers. The editors make their own independent decisions about publication of contents submitted for possible inclusion in Posh Luxury Mag. Please, send submissions to: editor

poshmag.net.
Advertise
We offer several advertising options. Some are available online, which can be viewed and purchased on our Advertise Page.
For more information, please contact us at info

poshmag.net.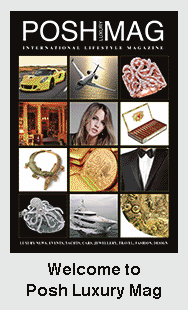 Copyright © PoshMag.Net - All Rights Reserved
Posh Luxury Mag

Terms of Use

Privacy Policy

SiteMap